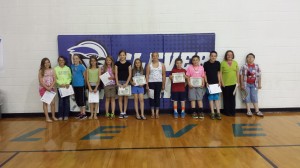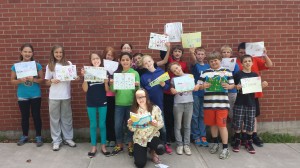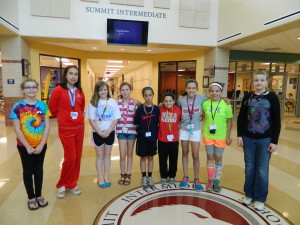 Ozark, MO – The Christian County Prosecuting Attorney, Amy J. Fite, is pleased to announce the winners of the 3rd Annual National Crime Victims Week Poster Contest sponsored by the Christian County Prosecutor's Office. Three school districts and 39 5th grade students participated in this year's contest. A winner from each school was selected with an overall grand prize winner. The winners include Morgan Keith of Clever, Jayme Dye of Highlandville, and Rachel Janisch or Nixa. The Grand Prize winner was Shelby Volmert of Clever.
Each student that participated was asked to draw a poster on how they can help someone who is hurting. The posters were judged based on originality/creativity, content, how well it related to the theme, and overall presentation. The posters were displayed in the Christian County Justice Center during National Crime Victims' Week.
National Crime Victims' Week was held April 6-12, 2014. It is a week used to promote awareness to victims' rights and services and to honor past victims of violence. This year's national theme was 30 Years: Restoring the Balance of Justice.
The Christian County Prosecuting Attorney's Office would like to thank all of this year's participants. We would also like to send a special thanks to Linda Baker, Barb Stillings, Ashley Keesling, and Suzanne Frakes for taking time out of their day to judge all of the posters.
The participants from Clever Upper Elementary include: Jordan Palmer, Jasmine Sondree, Dylan Thompson, Lucas Sale, Brea Benedict, Taylor Holmes, Morgan Keith, Penny Murray, Maddie Whittle, Jameson Price, Travis Franco, Shelby Volmert, Steven Blink, and Macy Browning.
The participants from Highlandville Elementary include: Bailey Nichols, Victoria Gagliardi, Dillon Abernatha, Matthew Grantham, Samuel Shuman, Daniel Newell, Jayme Dye, Jasmin Inman, Lana Martin, Haley Weiss, Nicole Sportsman, Mya Glenn, Jacob Mease, Keril Vakhrushev, and Chalice Sherer.
The participants from Nixa Summit Elementary include: Jaelyn Zimmerman, Samantha Denning, Rachel Janisch, Mariah Dillon, Isabel Panduro, Caitlyn Tatum, Terin MacDonald, Olivia Engelman, and Brianna James.