Christian County Prosecu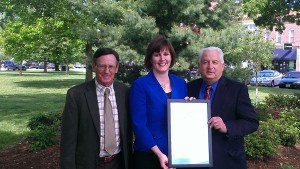 ting Attorney, Amy J. Fite is pleased to announce that Christian County commissioner's Lou Lapaglia and Bill Barnett signed a proclamation today declaring April Crime Victim's rights month in Christian County.  Each year in Christian County there are approximately 650 victims of a variety crime whom suffer emotional, physical, psychological and/or financial harm.  April 22 – 28th is National Crime Victims Week and this year's message was Extending the Vision – Reaching Every Victim.
"Victims of crime not only suffer from the crime itself but unfortunately the criminal justice process can cause additional stress. Public recognition of these difficulties only helps the victims. I am grateful to the commissioners for taking their time and position to recognize and extend the vision of reaching every victim." said Christian County Prosecuting Attorney, Amy J. Fite.