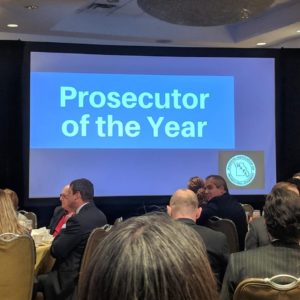 St. Louis, Missouri – September 26, 2018 – Christian County Prosecuting Attorney Amy Fite has been named Prosecutor of the Year by the Missouri Association of Prosecuting Attorneys (MAPA). The award was first presented at the MAPA annual meeting in August. Fite was further recognized September 26 at the Missouri Bar's annual meeting on September 26th. The award was presented by MAPA Executive Director Jason Lamb. The presentation took place at the Hilton St. Louis at the Ballpark in St. Louis, Missouri.
Amy Fite is in her second term as the elected prosecutor for Christian County. During this tenure, she has been named "Family and Sexual Violence Hero of the Year" in 2014 by the Missouri Association of Prosecuting Attorneys (MAPA) and been honored by the Missouri Victim Assistance Network in 2015 with its James P. Damos Award in recognition of her willingness to go above and beyond her designated duties in order to affect a positive change for victims. She is currently serving the second year of a two-year term as President of MAPA.
In addition to serving Christian County since 2011, Fite has more than 19 years of prosecutorial experience. She has served the people of Missouri in a variety of positions including at the Circuit Attorney's Office for the City of St. Louis and in the Greene County Prosecuting Attorney's Office.
The Christian County Prosecuting Attorney's Office is responsible for the prosecution of crimes against the State of Missouri that occur within the geographical boundaries of Christian County, Missouri. Its mission is to seek and serve justice for the citizens of Christian County. The office consists of one elected Prosecuting Attorney, six Assistant Prosecuting Attorneys, seven Legal Assistants, three Victim Advocates and one Investigator.
A copy of this press release may be found here.