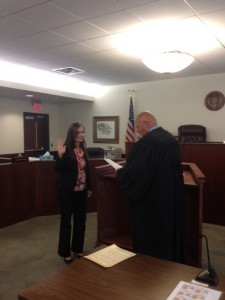 Christian County – Prosecuting Attorney Amy Fite announces that on Monday July 23, 2012 Kristen Tuohy joined the Prosecuting Attorney's as a First Assistant Prosecuting Attorney.  Ms. Tuohy received her Bachelor of Arts degree in Political Science from University of Missouri in 1999. She received her Juris Doctorate from the University of Missouri School of Law in 2003. Prior to joining the Christian County Prosecutor's Office, Ms. Tuohy served as a Senior Assistant Prosecuting Attorney for the Greene County Prosecutor's Office specializing in serious drug offenses. Kristen also worked as an Assistant Attorney General, an Assistant Prosecuting Attorney with the Newton County Prosecutor's Office and as an Assistant Public Defender.
Ms. Tuohy in her current duties will carry a felony caseload as well as supervise another assistant prosecuting attorney as well as two legal assistants and a victim advocate.  Further, Ms. Tuohy will act as the intern coordinator.  She will work to bring both volunteer legal interns as well as volunteer college interns through the Christian County Prosecuting Attorney's Office.  Ms. Tuohy is filling the vacancy created when Assistant Prosecuting Attorney Ben Miller had the opportunity to join the Missouri Office of Prosecution Services and is now serving as the Technology/Automation Resource Prosecutor for the State of Missouri.
Mr. Miller's new position includes coordinating efforts statewide to improve criminal history reporting by prosecutors; overseeing the installation and maintenance of the Karpel Case Management System in prosecutors' offices, and serving as a resource and trainer for prosecutors and their staff across Missouri regarding issues relating to technology and automation.
FOR MORE INFORMATION DOWNLOAD PRESS RELEASE