Christian County Prosecuting A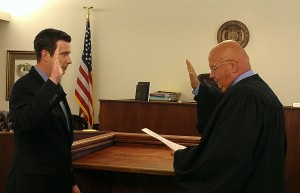 ttorney, Amy J. Fite announced today that Chris Lebeck has accepted an opportunity to serve prosecutors as General Counsel and Product Manager for Karpel Solutions. Based in St. Louis, Missouri, Karpel Solutions is a custom software design and managed services company that supplies the case management system to not only the Christian County Prosecutor's office but for over ninety percent of the prosecutor's offices in Missouri along with many other prosecutor offices throughout the United States. Chris' departure has resulted in the hiring of Taylor Moore as a new assistant prosecutor. Chris will remain with the Christian County Prosecutor's Office in a part time capacity during this transition.
In response to the Mr. Lebeck's new opportunity, Christian County Prosecuting Attorney, Amy J. Fite said, "I am grateful for the hard work of Chris. He was instrumental in converting the office to a file-less office. His skill as a prosecutor and abilities with computers will be missed. I know that in his new position, he will continue to help prosecutors in Missouri and the rest of the United States be more effective and efficient."
Taylor joined the Christian County Prosecuting Attorney's Office on May 15, 2012. Taylor received his Bachelor of Arts from Louisiana State University and his law degree from the Paul M. Hebert Law Center at Louisiana State University. Prior to joining the Christian County Office, Taylor practiced oil and gas law in New Orleans with Carver, Darden, Koretzky, Tessier, Finn, Blossman and Areaux, L.L.C. After moving to the Ozarks in 2008, Taylor was an associate at the law firms of Millington, Glass & Love and Carnahan, Evans, Cantwell & Brown, P.C., where his focus was creditor rights and banking litigation.
"I believe that Taylor is a good addition to the prosecution team in Christian County. He has a drive and dedication, that will help him excel as a prosecutor," stated Christian County Prosecuting Attorney Amy J. Fite.